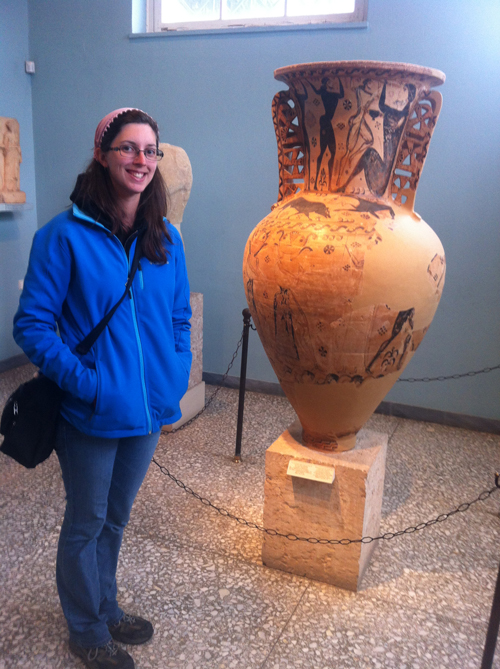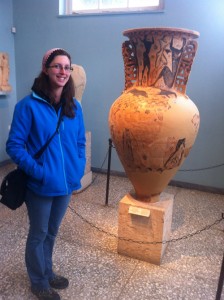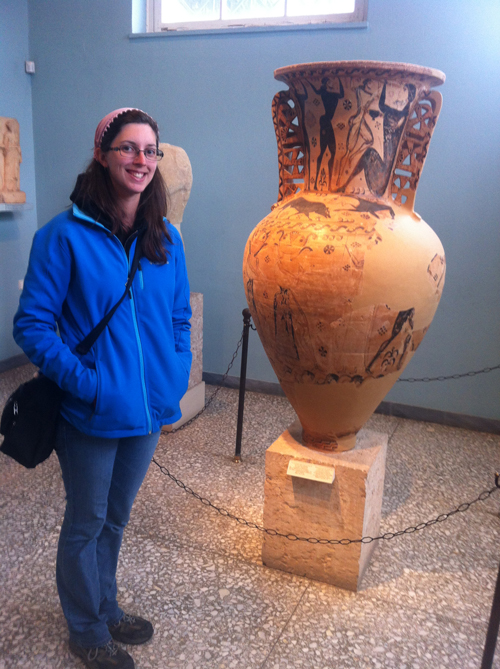 Danielle Smotherman is spending the 2014-2015 academic year at the American School of Classical Studies at Athens as an associate member. Danielle has joined the regular members on trips around Greece, visiting archaeological sites and museums as well as giving reports on specific monuments and sites. These trips offer firsthand experience of archaeological sites spanning from the prehistoric to modern times, with a focus on antiquity, as well as in-depth knowledge of the topography of the regions. During the winter term, Danielle continued her visits to area sites and monuments, both within Athens and the greater region of Attica, and met with important scholars in the field.
As part of the program, Danielle has been researching three votive relief fragments from excavations at Corinth, which will be included in a future Hesperia article. In Athens, she is also accomplishing important research for her dissertation, which has a working title of "Decoding Meaning: Understanding Communication in Athenian Vase-Painting of the Archaic and Classical Periods."
In the spring and summer, Danielle will participate in three excavation projects at Corinth, Greece; Naukratis, Egypt; and Vacone, Italy. At Vacone, Danielle is hoping to apply Reflectance Transformation Imaging (RTI), a technique she first learned and applied to pottery in the Special Collections at Bryn Mawr College, to small finds recovered from the Roman villa. On a non-academic note, in December, Danielle and Wesley Bennett, also in the department of Classical and Near Eastern Archaeology, were engaged by the temple of Poseidon at Sounion.
Danielle's studies at the ASCSA are funded by the Graduate School of Arts and Sciences, the department of Classical and Near Eastern Archaeology, and the Ridgway Curatorial Fellowship.